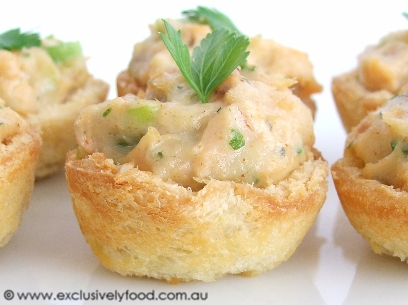 Salmon is an acquired taste not everyone likes the taste and smell of Salmon. I don't but my hubby does yet that doesn't stop me from cooking Salmon for him.
Here's a nice simple finger food to share
Bread Cases
About 12 slices sandwich-slice white bread (use a fairly wide/tall loaf so that you are able to cut 2 rounds from each slice; otherwise you'll need about 24 slices of bread)
About 50g butter, melted
Salmon Filling
210g can salmon, drained
25g butter
1 1/2 tablespoons (18g) plain flour
188ml (3/4 cup) milk
3 green onions (green shallots), finely chopped
Salt and pepper
1/4 teaspoon ground paprika
1/2 teaspoon Dijon mustard
1 teaspoon (5ml) lemon juice
1 teaspoon finely chopped parsley (firmly packed)
Extra parsley, for decoration
Visit exclusivelyfood for pictorial guide on how to make this dish.