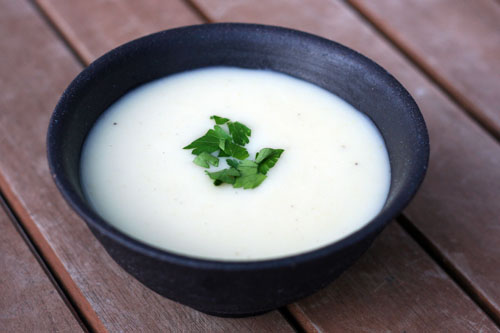 Thick and creamy, this peanut soup is a delicious sweet dessert which can be served hot or cold.
Ingredients
Raw peanuts – 450g
Baking soda – 2 tsp
Sugar- 450g
How to prepare it
Place peanuts in a pot and cover with water. Bring to the boil and cook for 30 minutes. Remove peanut skins, then rinse and drain.
Transfer peanuts into a large saucepan. Cover with water and add baking soda. Bring to the boil and cook for another 10 minutes. Drain and wash, then drain again.
Return peanuts to saucepan. Add 5 liters (20 cups) water and bring to the boil. Lower heat to a simmer and cook, covered, for 3 hours or until peanuts are soft. Set aside to cool slightly.
Pour cooked peanut and remaining water into a blender (processor) and blend until smooth. Return mixture to saucepan and add sugar. Stir well over low heat until sugar dissolves
Ladle into serving bowls and serve it. If serving cold, leave to slightly before refrigerating for at least 1 hour.
Enjoy it 🙂