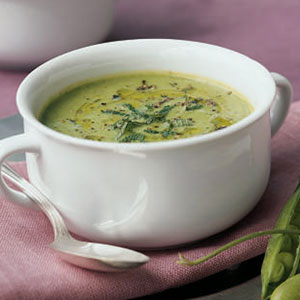 A Dutch recipe, this pea soup is usually served as a meal on its own. Leaving the soup to stand overnight improves its flavor. Reheat before serving… Below is the recipe by Marshall Cavendish

Ingredients
Water – 2 Liters
Split green peas – 250g
Bacon – 225g
Onion – 1, Peeled and chopped
Celery – 3 stalks, chopped
Leeks – 2, washed and sliced
Frankfurters – 3, cut into chunky pieces
Ground black pepper – to taste
Worcestershire sauce – 1/4 tsp
Method
In a large saucepan, bring water and split peas to the boil over medium heat. Skim off any scum that rises to the surface. Reduce heat to low, cover pan and simmer for 2 hours.
Add bacon, onion, celery and leeks to the pan and continue cooking for another 1 hour.
Using a slotted spoon, remove bacon from soup. Cut bacon into small pieces and return to the pan.
Add sliced frankfurters and season with pepper to taste. Simmer for another 10 minutes.
Remove pan from heat and stir in Worcestershire sauce. Ladle soup in to serving bowls and serve hot.