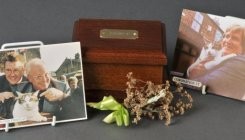 Frisky the cat doesn't belong to a celebrity instead the cat is the celebrity. Frisky appeared in British TV Show "Coronation Street" montage. Though he is dead for more than ten years ago, yet his ashes fetched a whopping 800 pounds in an auction held recently.
He appeared in 1,000 episodes and was chosen among 5,000 cats to appear in a very short Coronation Street's opening credit. I would have to say, lucky cat someone really wants his ashes to be put on a display on the shelf. The buyer also gets 10 postcards featuring Frisky and the Coronation Street actors.
This is not something everyone would love to have in their house except for some die hard fans.
Source : msn.com