Heels, heels, heels… you like 'em, you buy 'em, but you can't walk in them. If that's the case with all your heel purchases, then we besties, girlfriend. I mean, at least that was how it used to be for me, until I figured out the right way to select a heel. And yes, there are mathematics and calculations behind picking the right high heels.
If you've been following my work, you know that I take my fragrances very seriously – and the other thing that is very personal to me is shoes, specifically, high heels. Cause, a bish loves high heels – but sadly, my overly fat a$$ is unable to walk in some of the high heels I've purchased over the years.
But if I am determined to get something done, I will. So what did a bish do? Research of course. I researched the heck out of "how to purchase the right high heels". When I tell you I did my studying, gurrrl, if only I had put in this much effort in school back then. Anyways, after much searching, I realised there's more to buying a pair of high heels than simply picking the ones you like based on their exterior design.
High heels NEED to make you feel comfortable, help balance your posture, and most importantly, don't make you feel like you are walking on thorns. So, in case you love high heels but can't seem to find the right one, hope this lil info helps you out!
Anatomy Of A High Heel 
This is the basic anatomy of a high heel – and yes, bishes, we are actually going to look at the anatomy, because before purchasing a heel, you gotta know the structure of it and how your foot is going to end up cramping up in there.
1. Toebox 
The toebox is the front of the shoe, which is the part that covers and protects your toe. The narrower the toebox is, the more uncomfortable it might be for your feet if you generally have wider toes.
2. Vamp
The vamp is the part that can cover any top section of the foot, between where the toes and legs connect to the foot. This is also another part to consider if you don't like a vamp that is closed. Personally, a closed vamp for me allows me to walk more comfortably. It is a tiny detail, but taking this tiny detail into consideration can really benefit your heel purchase.
3. Insole 
The insole is the inner part of the heel that lays at the bottom of your feet. Looking at the insole is also important, as it determines the comfortability of your feet, especially when you're standing in heels.
4. Throat 
The throat is the open sides of the heels where you slide your foot in. A sharper, narrower throat will definitely hurt you foot and it is super uncomfortable to be walking in those kinds of heels.
5. Shank 
The shank is a part of the shoe that runs between the heel and the sole and sits under the arch of the foot. The shank is considered the backbone of the heel, as it helps support your foot, as well as gives structure to the heel itself.
6. Sole 
The sole is the bottom part of the shoe. Depending on the type of high heels you purchase – which we'll get into in a while – the sole can be higher off the ground or flat on the ground. Usually, soles that are higher can be more comfy for your feet, as they support the height of the heels.
7. Heel Breast
The heel breast is the side of the heel that faces forward. Also depending on the type of heels you purchase, the heel breast can be slim and thick.
8. Heel 
The heel is the outer part of the shoe that is placed under the heel of the foot. This is where you may choose the height of your heels. Whether you wanna be closer to heaven, or down to earth.
9. Counter 
The counter is the part that is behind the heel of the foot. The counter is used to stiffen the back of the shoe as well as give the high heels a better structure.
Types of High Heels 
There are so many types of high heels, which is why I always say, there is definitely a high heel for every woman. If you gave up on searching just cause you think there is not a heel for you, you are wrong woman – you probs didn't know what you were purchasing.
The above graphic depicts the names of the different types of heels there are. Pumps are more suitable for work as they are elegant, and have a tiny heel to them. Cone shaped heels' heels are shaped like an ice cream cone. They start thick at the top and taper down. Peep toe heels are the same as the cone shaped ones, the only difference being that there is a small cut at the opening to leave space for the toes to stick out.
Open toe heels feature a cut-off portion at the tip to expose all your toes. If you prefer airways near your toes, open toe heels are the ones for you. Stilettos are typically the heel every woman would choose to wear – and I like to call them Lucifer's, woman, because bish, it feels like Lucifer is eating your feet out. Stilettos have taller and slimmer heels – usually at a minimum height of 2 inches.
Slingback heels are a buckless heel with a single strap that wraps around the back of your ankles. This is more of a hip high heel and would totes rock a casual outfit. Kitten heels are the tinniest of em all. It's a short and slender heel, usually only about 3.5cm to 4.5cm. Very suitable for everyday office wear if you do work in a corporate environment that requires your shoes to have a slight heel to them.
Chunky heels are thicker and larger. They usually come with a heightened heel and can be pretty comfortable to walk in, due to their thick heel structure. Spool heels are sort of like kitten heels, with a boot like structure. They can be extremely comfortable due to their long neck. Platforms are the divas of the high heel gang – they have a bigger platform, elongated heel, and are pretty fancy, to be honest. If you have very little stamina, don't even go near this one, babe.
Mary Jane heels are what I like to call 'little red riding hood heels'. They have a closed toebox, very little heel, and look more like a shoe than a heel. T-strap heels have a 'T' shaped strap running up the foot. Usually, with this kind of strap, one might feel a tad more comfortable, since the heels are sort of hugging your feet. For D'orsay heels, the vamp and the sides of the shoes are cut away, revealing the arch and the toes. A d'orsay heel is pretty chic and elegant.
Wedges are by far, the saviour of heels. They're just big, chunky pieces of heels that give you ultimate support for your foot. Scarpin heels are a classic light shoe with thin heels. This may not be very comfortable – unless you enjoy having your feet stabbed. Ankle strap heels are similar to platforms, but have a strap on the front of your ankles. If a normal platform is not to your taste, maybe an ankle-strap would do you justice.
Ruby slippers have a flatter shank and a slight, chunky heel. Also suitable for office wear. And finally, the lobster claw heels – I don't understand what the puck this is, and how anyone can walk in them. It was created by Alexander McQueen in the year 2010 and has been worn by many women since. It literally looks like its name.
Now that you've scanned the different types of high heels, you can now pick the one which you think will suit your feet and overall body the best. With this out of the way, we can now look at how to choose the right pair of heels.
1. Pick According To The Shape Of Your Toes 
Everyone has a different toe shape and that effects the types of heels you will purchase. As seen in the image above, the different types of toe shapes require different toeboxes for comfortability and balance. So, when purchasing a heel, make sure to find a heel that has a toebox similar to the shape of your toes. This will prevent you from having sore feet and especially, sore toes.
2. Height Of Heels 
The most important point is to pick a high heel at a height that you are satisfied with. Bish, if you can't walk in a 7 inch high heel, then stop putting your feet through all that nasty sh*t. You legit would look like this when you walk with heels that are not for you: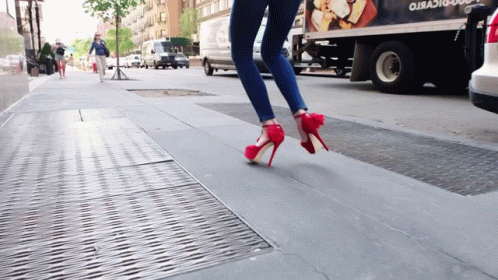 Typically, I would go for a chunky stiletto, as it gives more support and balance when I am walking. A wedge would be the most comfortable and I would feel less wobbly walking in them.
3. Type Of Platforms/ Soles 
This is also another important factor to look at. If walking on a flat sole is painful and makes you feel unbalanced, then a thinker and slightly higher sole would balance out the height of the heel – which is more safe for your heels, ankles as well as spine.
If you are starting out on your high heel journey, then try looking for a mid-height heel. A mid-height heel is usually between 2-3 inches, which gives you the perfect height without placing too much pressure on your foot and spine.
4. Heel Shape 
Another thing to always consider is the shape of your heels. If walking in slimmer heels is not your strong suit, then a thicker and chunkier heel would make more sense.
5. The Placement Of The Heel
If you hadn't already noticed, high heels may all look the same, but there is a difference on the placement of the heels. If the heels of the shoes and the soles are too close together, the heels will hurt your feet. If the heels are at a distance from the soles, these are the heels that would be comfortable for you.
Last but not least –
Are You Able To Walk In Them? 
Don't buy a heel just for its glam factor – try out the high heels and make sure you're able to walk in them without looking like a tripping clown. Trust me, darling, you'd rather try them on and strut throughout the shoe shop, than walking in front of a group of people and falling face first on the ground.
Tips 
A great tip to prevent or ease pain is to use gel or padded inserts that help with reducing the friction between your feet and the heels themselves. Gels are such life-savers – they literally reduce the amount of pain and provide more support for your feet and spine.
And there ya have it. Hope this short little rundown will be useful for your next heel purchase. Till next time, thank you for reading, babes!
More on high heels? Read these:
In The Thick Of It: Step Towards Chunky Heels, Cause They're A MUST HAVE!