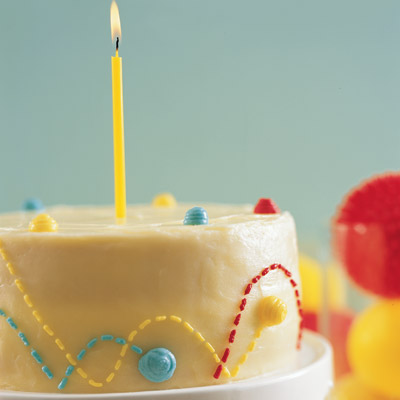 Your kid's birthday comes only once a year, so make it count! Throw a party to remember with your homemade birthday cake.An easy decoration of butter cream bouncing balls given to your kid's birthday cake…. It's fun and festive vibe 🙂 Yummy!!!
Ingredients
Red, yellow and blue gel paste food coloring
Yellow cake, baked in two 8-inch round cake pans
Directions
Place 1/4 cup butter cream in each of 3 bowls; tint butter cream in one bowl red, another yellow, and another blue. Transfer each color to a pastry bag fitted with a coupler and a small plain round tip (such as Ateco #4); set aside.
Using a serrated knife, trim tops of cakes level. Place 1 cake layer on a cake stand or a cardboard round wrapped in parchment paper. Spread with 1 1/2 cups butter cream. Top with remaining layer. Thinly coat top and sides with butter cream. Refrigerate 30 minutes. Remove from refrigerator, and frost with 2 cups butter cream. Using a toothpick, make an outline of dashed arches on side of cake. Pipe red, yellow, and blue butter cream dashes over the outlines. Switch to a 1/4-inch plain round tip (such as Ateco #12) to make "balls" of frosting at end of each dashed line. Pipe 6 "balls" around top edge of cake. Cake can be refrigerated up to 6 hours.
Source: Homemade Birthday cakes