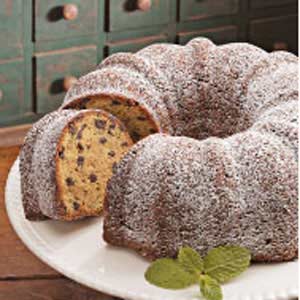 Hmm…indulge into something heavy without feeling guilty. Health and fitness is very important but once in awhile you ought to treat yourself with some mean chocolate cake. This mean chocolate chip cake isn't that mean at all coz it's low fat. Yet, it still tastes like any other chocolate chip cake.
Ingredients:
Non-stick cooking spray
2 teaspoons all-purpose flour
1 cup fat-free sour cream
3/4 cup plus 1 tablespoon warm water
3 tablespoons vegetable oil
2 teaspoons instant espresso or 4 teaspoons instant coffee granules
1 (8-ounce) carton egg substitute
1 (18.25-ounce) package devil's food cake mix (without pudding in the mix)
1 (3.9-ounce) package chocolate instant pudding mix
1/2 cup semisweet chocolate chips
1 tablespoon powdered sugar
Directions:
Preheat oven to 350 degrees.
Coat a 12-cup Bundt pan with cooking spray, and dust with flour; set aside.
Combine the sour cream and next 6 ingredients (sour cream through chocolate pudding mix) in a large bowl, and beat mixture at medium speed of a mixer for 3 minutes. Add the chocolate chips, and beat the mixture for 30 seconds.
Spoon the cake batter into the prepared Bundt pan. Bake cake at 350 degrees for 1 hour or until a wooden pick inserted in center comes out clean. Cool cake in pan 10 minutes on a wire rack. Invert cake onto a wire rack, and cool completely. Sprinkle cake with powdered sugar.
Yield: 16 servings Chocolate-Chip Bundt Cake.
Nutrition information per serving:
Calories: 230
Fat: 7.6g
Protein: 4.3g
Carbohydrate: 36.7g
Fiber: 0.8g
Cholesterol: 0mg
Sodium: 397mg
Source : fitnessandfreebies