Personally, I love baggy or oversized clothes – I feel comfortable wearing them all day and they mostly hide my figure, too. When it comes to baggy garments, I usually have fun experimenting with different accessories, textures and ways to foreground my waist, while still maintaining the oversized state of the ensemble.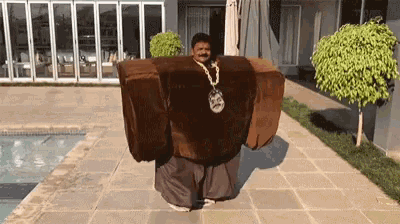 Wearing baggy shirts with skinny jeans or leggings is so tired at this point. Plus, skinny jeans are out and should stay out – and there's no one who can convince me otherwise. So, if you're looking to elevate your oversized fit – without any use of skinny jeans or leggings – scroll through some inspos to add to your everyday aesthetics.
Harness It
With a baggy shirt or sweater, you'd want something to cinch your middle if you wish to foreground the silhouette of your body. Instead of a normal and basic belt, opt for a harness to give your look some extra edge and a punk aesthetic. A harness comes in many designs – all of which build texture and can also add a certain sexiness to your appearance.
Silk Skirt
Silk dresses or skirts are the 'IT' fashion pieces that we've talked about non-stop. Putting together a baggy top with a silk bottom will emphasize the feminine aspect of your ensemble, and will make you appear more ethereal looking. The silk is comfortable to wear, much like the oversized top, and flutters stunningly across your legs when there's a tiny breeze.
For more inspos on wearing silk slip dresses, read this:
https://lipstiq.com/weekly-column/189029/sarah-torial-style-how-to-create-8-looks-with-just-1-satin-dress/
Pull Up A Palazzo
I've been sporting a lot of sweaters with palazzos lately, and although one might think it's a weird combo, it works! Palazzos are already comfy enough to wear with just a fitted shirt. However, a combo of palazzo and a baggy shirt will take your comfort to the next level, will still elevating your aesthetic. You can opt for a softer and gentler look – or go crazy with patterns and colours that scream your stylish vibe.
Monochrome
For a more casual and laidback look, while still appearing like you made an effort to put your ensemble together – go for a monochromatic look. It's fashion's most beloved way to express one's style due to the contemporary aspect of the entire fit. It's giving streetwear vibes, but more elevated – which we aim for with oversized clothes. Pair any oversized bottom with any top – as long as their colours match.
Baggier Jeans
With a baggy shirt, it's mandatory that you wear baggy jeans. It's giving a 2000's streetwear vibe – and the fact that the style is back in fashion is all the more reason you should wear it! The style is super low-key, yet chic and can be worn for a night out on the town, or for a spontaneous lunch with your friends. Plus, you'll feel comfortable the whole day!
Baggy Every Wear
If you want just comfort and nothing else, opt for sweats and a sweater – and you're good to go. Sometimes, comfort trumps any style that involves including unnecessary stuff in your ensemble. By adding jewelry like necklaces and earrings, your fit will be leveled up, even though you never even bothered to think of the whole outfit in the beginning. It's like you just effortlessly put the whole look together – which is a bonus for that low-key style.
More on fashion? Read these:
https://lipstiq.com/column/188427/sarah-torial-style-stay-sustainably-sexy-with-these-diy-tips-on-upcycling-clothes/
https://lipstiq.com/fashion/186300/back-to-basics-5-basic-garments-that-will-defo-boost-your-styling-game/