Abandonment fear is extremely real. The emergence of that fear could stem from a past trauma. Hence, in order to soothe their trepidation, sufferers would either avoid being attached to someone, or would do ANYTHING to maintain a friendship in hopes that they won't be left out.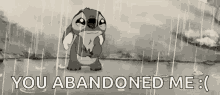 If you've ever wondered if you might have abandonment fear, here are 6 signs that you should take note of:
Trust Issues
Having trust is what builds the foundation of every relationship, regardless of whether it's with your friends or your significant other. But for those who have abandonment issues, they might have trouble in trusting others. They tend to overanalyze every relationship that they have and look for any reason that they can to not trust the other party.
Never Opens Up
Without having any trust, they won't have any reason to be openly vulnerable. In fear of letting their guard down, they would put up a wall so thick that nobody from the other side could ever reach them emotionally. It's extremely unhealthy to bottle up everything and face your burdens alone because you're afraid that your problems might not matter, or they would leave once you express your feelings. The right people would never do that.
Rejection
Everyone is afraid of being rejected, but nothing scares people who have abandonment issues more than that. It's to an extent where they would literally push people away as a form of defense mechanism to hinder them from being potentially hurt.
Lacking In Commitment 
You tend to easily end relationships or cut people off once you've passed a few blissful moments with them. You've never felt the need to be in committed relationships for fear that other people might suddenly not like you. Hence, you would initiate and create a distance between and others to gradually cut them from your life permanently.
Pleasing People
If you're not the type to push people away, then you might be the one to please others out of fear of being neglected. You would try your best in sticking by them and praising their thoughts, opinions and ideas in hopes that they would accept you in their circle of friends. You would also, to some sort of degree, alter your attitude or how you look to fit their desires of how you should present yourself.
Constant Affirmation
You always feel the need for others to reaffirm their relationship with you and to constantly give you affirmation. Without those aspects in the relationship, your hesitancy and anxiety would heighten, which alert you that you should be prepared to be abandoned.
Your fear of being abandoned should never jeopardize the potential connection you would have with other people. Some day, you will know that you are always loved and will be loved. If not today, then someday.
More health advice? Read here:
Let It All OUT Girl!: Cleanse Away That Toxic Positivity So You'll Know That It's Okay To Not Be Okay