Girlies, it's time to stop waiting for their text like Rihanna Navy waiting for Rihanna to release new music. We know it can be a little intimidating to start a conversation, especially when they're really your type and you've matched, but you're not gonna magically have a partner-in-crime if you just sit and look pretty, right? (You have to put in just as much effort as the guys). And when it comes to dating-app conversation starters and Tinder openers, there's some art involved – and it's incredibly important. Not sure exactly how? Let Lipstiq help you out, because it's time we become girl-bosses and take charge.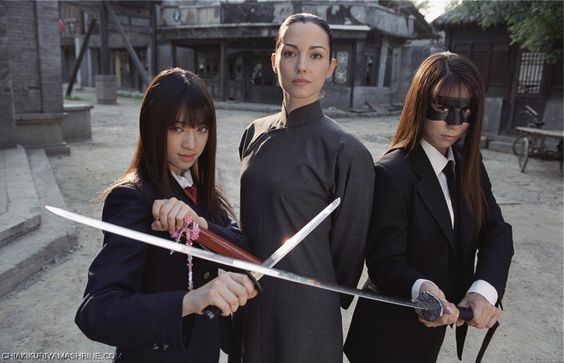 1. Play hard to get
This approach works all the time (based on personal experience). Perhaps it's the thrill of uncertainty that comes along with pursuing someone we're not sure is interested in us. You can do this in a number of ways, and the one way I like to do this is by teasing them a little. But it's important the teases should still express interest and come off as playful and flirty – not judgmental.
Maybe something like:
No way you like drinking orange juice, because that shit sure sucks.
Sorry, I've got way too many conversations going, so I may have accidentally overlooked your message.
Be honest. Is that dog really yours or just for props?
BTW, playing TOO hard to get might not be ideal unless you want something like this happening: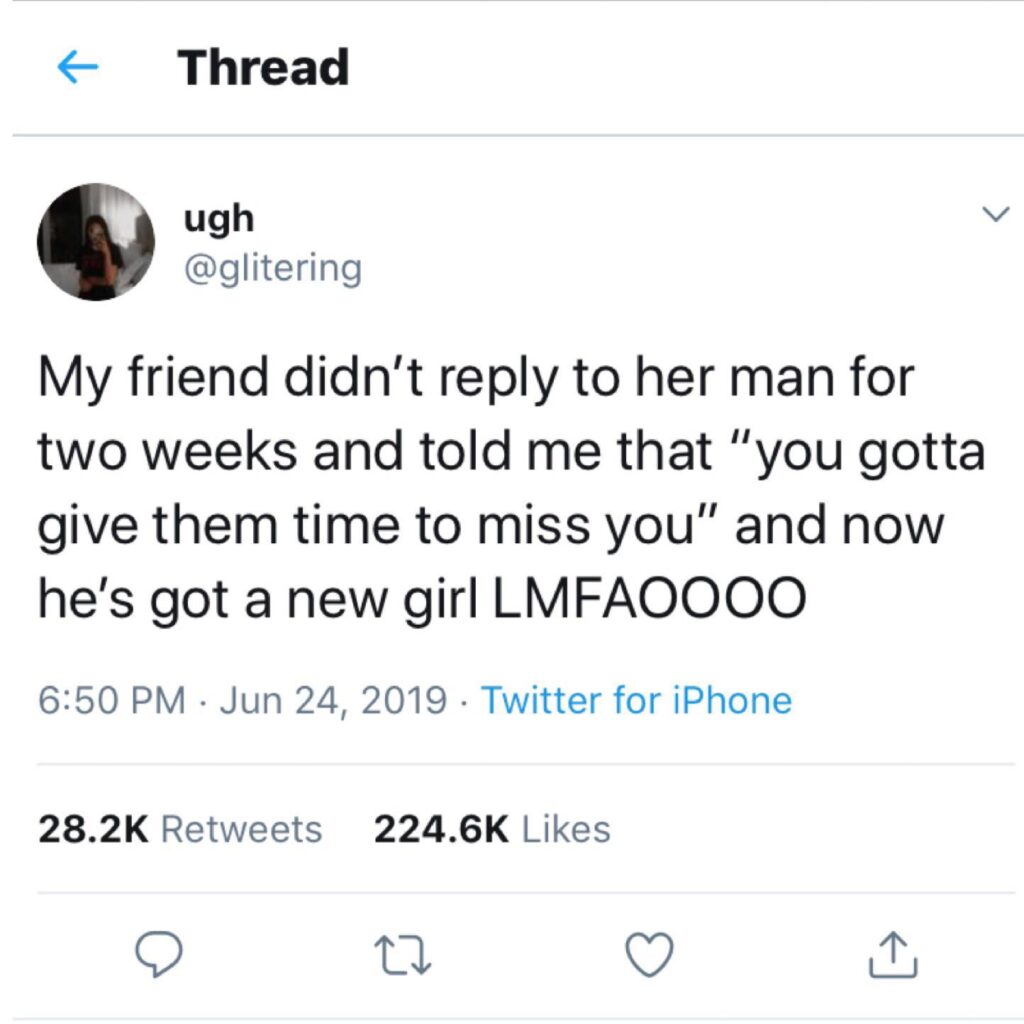 2. Charm them with your humor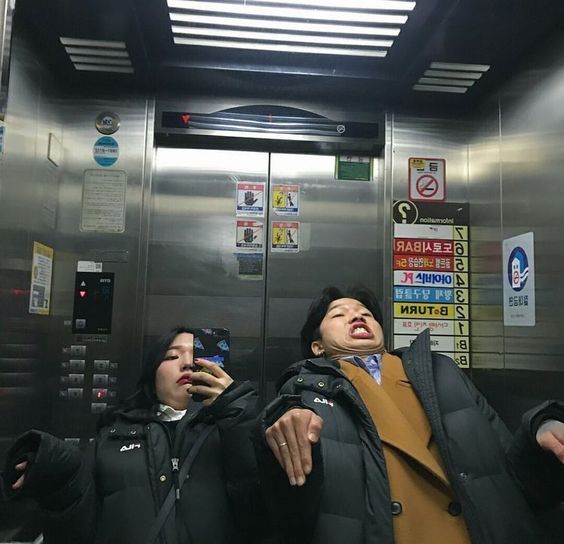 Comedy is always subjective, whether people find something funny depends on their assumptions, their understanding, their familiarity with certain references. But, no one's gonna say no to a good old dad joke or not find an extremely terrible pick-up line super hilarious (because it's just so bad). And what better way to show that you have good bantering skills?
An example, because Greta sure loved it: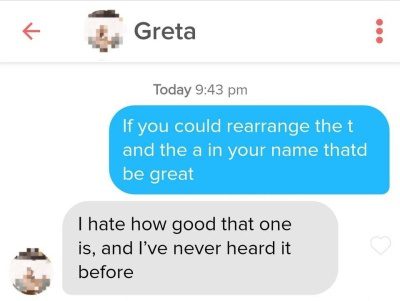 3. Throw in a compliment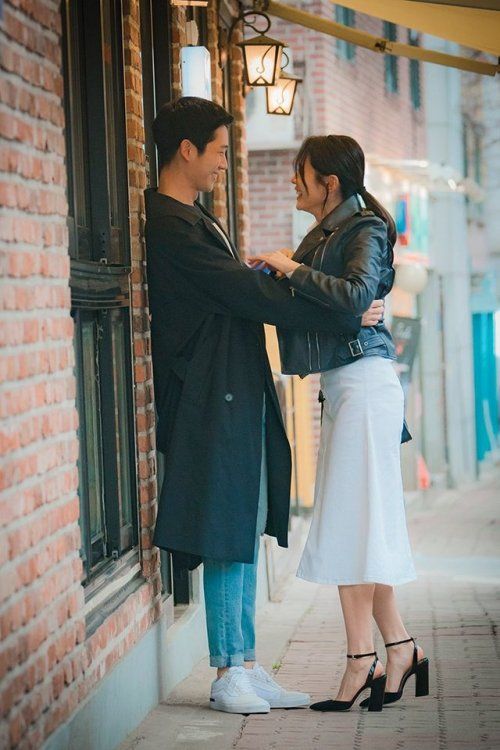 General compliments like "Looking handsome over there" or "You're so my type" are BORING and leave room for more of an open conversation.
Why not try something like:
Can't believe you look so good in that turtleneck because turtlenecks are really hard to pull off.
Wait, you surf? You must be quite the athlete.
God, you're so cute. Where the hell have you been my whole life?
Or you can secure a first date by trying something similar to this: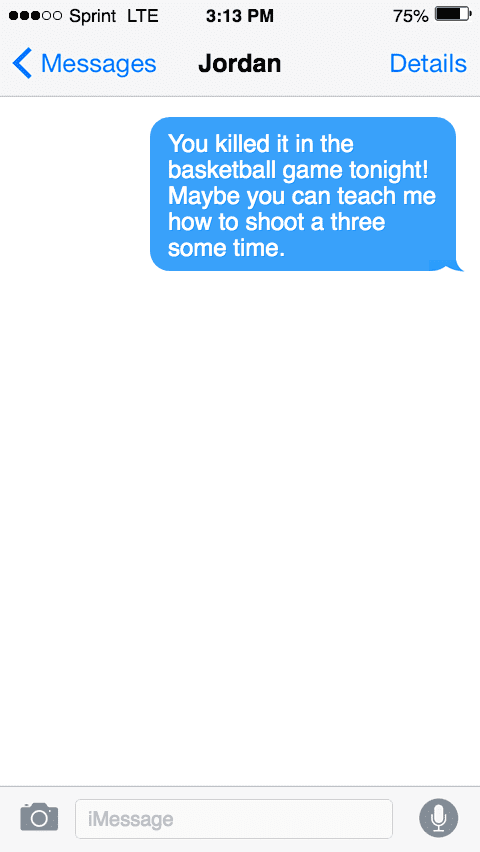 4. Take advantage of their profile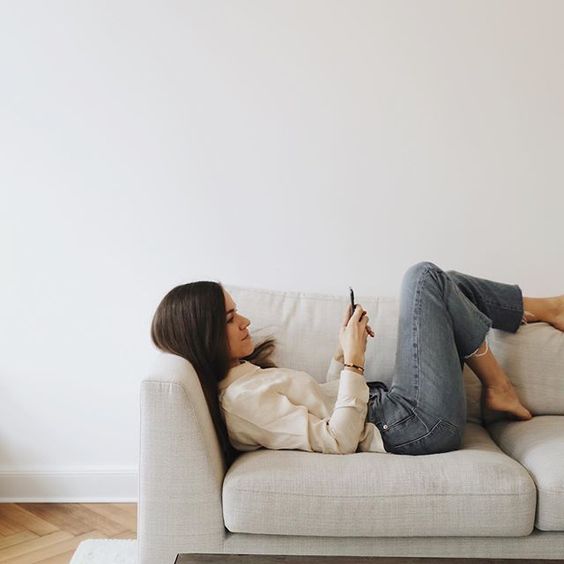 Many people forget that every dating app has its own features that make it easier for people to connect. Typically, all dating apps would have features like users' geolocation, interests, and current songs they are loving/listening to. And because there are so many features, there are also so many options (to make a good opening for your best first impression). Point out how near they live to you to let them know you're A-OK with meeting up or comment on what you think about the songs they are currently into. The possibilities are endless.
Everyone take notes from Roisin: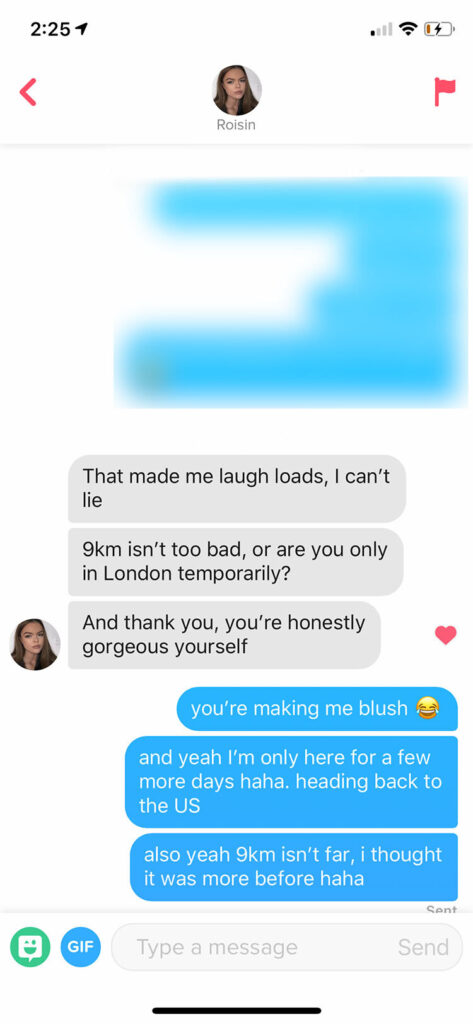 Ultimately though, be true to yourself and text them the way that you want. This is YOUR love life and YOU are the main character!