Contributed by @arienvalo.
Life has just become meaningful again for all vampire-loving fan girls out there. With HBO's True Blood Season 3 bringing sexy back in the form of Eric Northman and less than 5 days of waiting left for the next installment of the Twilight sage, it's time for girls (and boys) all over the world to get ready for some glamouring of their own.

Flawless Skin (Base / Foundation)
"They stood out from the rest of the crowd, and their beauty and grace otherworldly…" Bella, Eclipse
To create a flawless look for the face, start off with a base serum or cream to 'prep' your skin.
●      Urban Decay All Nighter Long Lasting Makeup Setting Spray
Next, follow up with a pale foundation. Avoid using a white foundation if you don't want to end up looking like Edward Cullen in the first instalment of Twilight. Instead, opt for a liquid foundation 2-3 tones lighter than your own skin tone. Apply more than your usual amount of foundation to create a flawless coverage.
Use a sponge for additional blending. Skip the concealer for your usual dark circles cover-up; the great thing about looking like a vampire is that they do come with the dark eye rings. 😀 Simply sweep on some translucent powder around your eyes and all over your face now to set your foundation.
Mesmerising Vampire Eyes
Now for the eyes. To create those smothering eyes, use Urban Decay's Primer Potion to prep your eyes for the colors. The primer will help the eye make-up to stay on for a longer time and make application much easier.
Use powder eye shadows and/or with a eye color pencil. For powder eye shadow, use a fluffy eye makeup brush to apply. Pay attention to the socket of your eye; by applying the colors inwards, you can create a more defined look.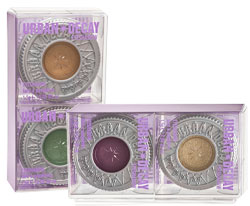 (via Urban Decay)
●     Urban Decay Eyeshadow Duo in Half Baked and Gash
Use a gel-based liner or pencil liner in black or charcoal to line your eyes.
Blood Red Lips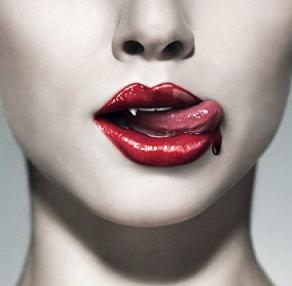 Finish up the look with sultry lips. Opt for a stronger red or plum color for a stronger constrast.
Try M.A.C's Viva Glam ,Twilight Beauty's Twilight Venom or Urban Decay's Gash: blood red .
Use a lip pencil to define your lips and you'll be ready to hook a few night walkers of your own.
(Tips via Michelle Phan)